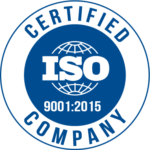 Information About Our ISO 9001:2015 Certification
Advanced Materials Technology, Inc. (AMT), the manufacturer of HALO® Columns, located in Wilmington, DE, is a certified ISO 9001:2015 company. The certification is a recognition that AMT's manufacturing processes and laboratories meet the world-class quality standards that have been established by the International Organization for Standardization (ISO).
The internationally recognized quality management standard makes certain that companies establish systematic controls around their processes, ensuring that products and services consistently fulfill customers' needs and expectations. Companies must establish standard written procedures and maintain full traceability from the beginning of manufacturing through to distribution to the customers. In addition to the product focus, AMT has used ISO 9001:2015 guidelines to enact processes that ensure AMT is focused on customer feedback, has exceptional customer service, and is continually improving our products and offerings
Whether or not you are required to use products from a company with a certified quality management system, you are able to take advantage of the benefits provided by an ISO 9001:2015 certified company when purchasing HALO® columns, hardware, and accessories from AMT.
Learn more about our ISO credentials below by viewing the certificate that is linked here. If there are any questions, please fill out a Contact Us form so that a representative can respond to any questions.