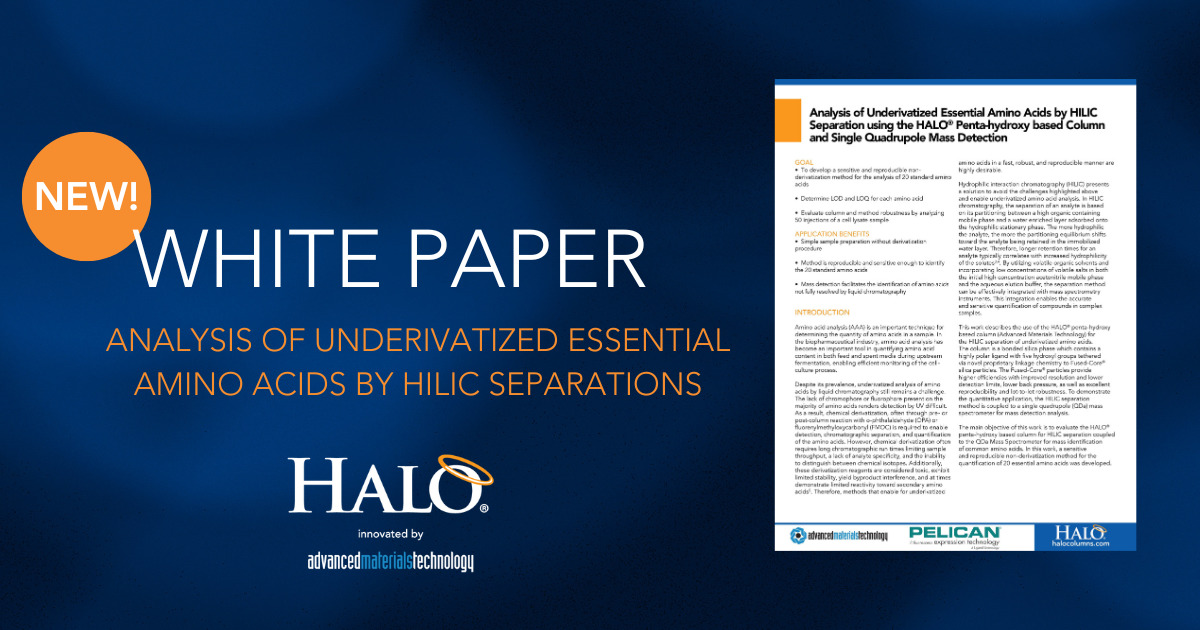 New Amino Acid White Paper
Amino acid analysis (AAA) is an important technique for determining the quantity of amino acids in a sample. In the biopharmaceutical industry, amino acid analysis has become an important tool in quantifying amino acid content in both feed and spent media during upstream fermentation, enabling efficient monitoring of the cell culture process.
This work describes the use of the HALO® penta-hydroxy based column (Advanced Materials Technology) for the HILIC separation of underivatized amino acids. The column is a bonded silica phase which contains a highly polar ligand with five hydroxyl groups tethered via novel proprietary linkage chemistry to Fused-Core® silica particles. The Fused-Core® particles provide higher efficiencies with improved resolution and lower detection limits, lower backpressure, as well as excellent reproducibility and lot-to-lot robustness. To demonstrate the quantitative application, the HILIC separation method is coupled to a single quadrupole (QDa) mass spectrometer for mass detection analysis.
Key Learning Objectives:
Simple sample preparation without derivatization procedure
To develop a sensitive and reproducible nonderivatization method for the analysis of 20 standard amino acids
Mass detection facilitates the identification of amino acids not fully resolved by liquid chromatography
How the HALO® Penta HILIC column was used for separating polar compounds with demonstrated robustness of lysate samples.
Submit the form below to download the White Paper.
In collaboration with: